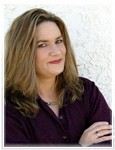 Broker,
CRS, ePRO, CNHS, RDCPro
California Broker's License #
00988013

Karmen Mastin started her real estate career in the late 1980's, working alongside her parents, and then quickly found her niche representing homebuilders in New Home Sales. For the next 17 years, she worked for a number of large and small homebuilding companies and developers, including Brock Homes, West Venture Homes, Western Pacific Housing and Shea Homes.
In her successful New Homes career, Karmen sold well over a thousand homes stretching over four counties and ranging from entry-level to luxury. Her commitment to her customers garnered her over a dozen awards for excellence in customer satisfaction, as well as a charter membership in Shea Homes' Sales Leadership Team.
Karmen was twice honored, along with her partners, with the prestigious Élan Award for Sales Professional of the Year, issued by the LA/Ventura Sales and Marketing Council. She and her partners were also named an unprecedented four consecutive times as Most Professional New Home Sales Team by Newhall Land and Farming Company.
In 2005, Karmen was pleased to direct her energies to her family's business and accepted a position as Big Valley Real Estate's Director of Sales and Marketing where she was successful in assisting the company to grow in new directions, including providing high quality REO sales and valuation services to a variety of corporate clients and GSEs. In 2019, with the changing market, she assisted the company in repositioning back to its roots, with a specialty and focus on Vacant Land sales – a favorite area of the Mastin family, who are all long-time land investors.
Upon the passing of her father, Big Valley Real Estate's founder Tom Mastin in October 2021, Karmen stepped into the managing broker role, and alongside her mother Linda, carries the business forward into the future with an emphasis on the personal, knowledgeable, ethical, and results-oriented service that the company is known for.
Karmen holds her California Broker's License, is a certified e-PRO, a Certified New Home Specialist (CNHS) as well as a Certified Residential Specialist (CRS) and REO Default Certified Professional (RDCPro) and has also earned the At Home with Diversity certification.