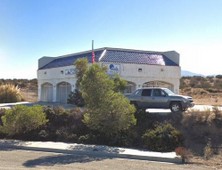 2660 Pearblossom Highway

Palmdale, California, 93550
P.O. Box 900910
Palmdale, CA 93590
Or Call:

Attention - Before You Visit!
For your safety and ours, due to the ongoing situation with COVID-19 we are unable to welcome walk-in visitors to our office and are meeting by appointment only.

Please contact us via phone or email, and we will make safe arrangements for any in-person business needs. We are all eager for our lives to get back to normal and appreciate your understanding!

Thank you!